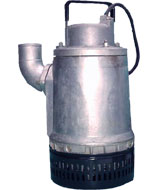 The EP centrifugal single-stage pumps operate submersed in the drained & handled sewage water containing slime, sand, clay and other abrasive debris. The pumps have the following parameters:
- Abrasive debris density up to 20 %
- Maximum temperature 40-C (313 K)
- Weight up to 1200 kg/m3
- Kinematical viscosity 1.06.10-6 m2/s
- pH from 5 to 8,5
- Maximum depth up to 10 m.
Based on these characteristics the pumps type EP can be used in case of emergency for draining of buildings, municipal sewerage systems and for drainage works in mining and civil engineering.
The centrifugal single-stage pumps EP have a compact design being coupled with the electric motor. The rotor and the stator are mounted in a motor casing, which is cooled by the fluid handled. The seal surfaces are provided with rubber O-rings. The shaft has 2 mechanical seals - one fixed in the oil chamber between the el. motor and the pump, and second fixed on the impeller. The pump screen prevents sucking of solids exceeding 4 mm.
The basic parts of the pumps are made of the following materials:
| | | | |
| --- | --- | --- | --- |
| - | Impeller | - | Stainless steel, bronze or rubber-lined |
| - | Shaft | - | Stainless steel |
| - | Guiding apparatus | - | Stainless steel |
| - | Motor casing | - | Aluminium |
| - | Pump body | - | Aluminium |
The indication of the pumps includes the following symbols:
6EP15
| | | |
| --- | --- | --- |
| "6" | - | Rated flow (l/s) |
| "EP" | - | Centrifugal Single-stage, Submersible |
| "15" | - | Rated head (m) |