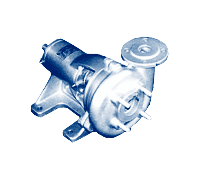 The centrifugal single-stage pumps type "E-KUL" are designed for transportation of chemically aggressive liquids.
The impeller has a bracket mounting on a horizontaI shaft - two roll bearings in a supporting base (bearing body).
The impellers of the pumps are executed with reverse blades, which secure minimum pressure in front of the pack arid relieve it hydraulicly. The shafts of all pumps are packed by a sealing and lead-asbestos glands. A hydraulic ring is provided for the different areas of application with an option of driving in water under pressure to bar the inflow of the aggressive medium. A special collecting box of an artificial material is provided for gathering the flowings.
The characteristic features of the design are as follows: In the pump type "E-KUL" suction body and spiral body are integrated in one housing, what is an advantage for the exploitation and repairs. The impeller is under cover and is assembled with the shaft by a dapper screw-nut, which contains a round section packing to protect the shaft from corrosion.
The parts contacting the aggressive medium are of stainless steel. The bearing body is made of grey cast iron, the connecting elements - of steel with additional superficial treatment.
The indication of the pumps includes the following symbols:
13E50A KUL-D3T-MS
13
-
nominal flow - l/s
E
-
single-stage
50
-
head at nominal flow - m.w.cl.
A
-
variant with reduced impeller diameter
KUL
-
acid resistant cast steel
D3T
-
main components of steel grade OX23H28M3D3T
MS
-
variant with mechanical seal