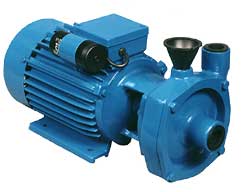 The monophase pumping units are designed for transportation of pure water with temperature up to 40°C.
The pumping units can be used for water supply and irrigation in private households and industry.
The pumps are mounted directly on the extended shaft of the el.motor - single block execution. The pumps are driven by monophase electric motors with 220V, 50Hz supply. The pumps can be coupled with other types of el.motors - pump execution. The packing of the shaft have two variants of execution: gland and mechanical front seal.
Purpose-built design of the pump provides non-failure operation up to 25 years of continuous operation.
The basic parts of the pumps are made of the following materials:
Detail
Construction materials
Standard
Casing and hydraulic details
cast iron
Connecting elements
steel
Packing shaft [Pumps type "Vida" 1, 3, 4, 5, 6, 7, 8]
gland seal
Packing shaft [Pumps type "Vida" 12, 13, 14, 15, 16, 17, 18]
mechanical front seal
Indication of materials