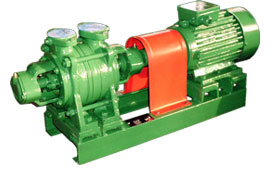 The horizontal self-priming pumps type "KS" are designed for transportation of fresh and sea water or other liquids with viscosity, specific weight and chemical activity similar to those of the water with maximum temperature up to 85°C.
The pumps are used in ship installations, for industrial water supply, in small sites and for other purposes where small discharge and high pressure rates are required.
Due to the self-priming ability and the steep Q-H characteristic these pumps are very appropriate for operation in hydro modulus installations, hydrophoric installations, etc.
The pumps type "KS" are executed in monostage and multistage versions. In both cases the rotor rests in two roll bearings.
The impeller is eddy type with radial operating blades. It is mounted floating to the shaft.
From the side the eddy wheel is closed by a suction disc and a lateral groove body, which form the operating space of the pump.
The suction flange of the pump is on the side opposite to the electric motor.
The separate sections have between them flat cardboard sealings; the tightening up is effected by connection bolts. The sealing of the shaft is secured by two packs with tallow packing.
To enable self-priming at the initial start the pump has to be filled with pure water. The start has to be done at any rate with the pressure line open, connected with the atmosphere.
The direction of rotation is counter-clockwise if looking from the suction side.
The pumps are driven by three phase electric motors for 380 V at 50 Hz. If contracted with the buyer, they can be executed for other voltages and frequencies and in a tropical version, as well.
The indication of the pumps includes the following symbols:
1.7KS22.4
1.7
-
round nominal discharge
K
-
ship
S
-
self-priming with lateral groove
22
-
round head at nominal discharge in m
4
-
number of stages
The basic parts of the pumps are made of the following materials:
Detail
Construction materials
Standard
Bearing body, suction disc, groove body
grey cast iron
Vortical impeller
bronze
Shaft
stainless steel
Connection bolts
steel
Indication of materials