[The customer is requested to spesify the technical characteristics before manufacture of the pump.]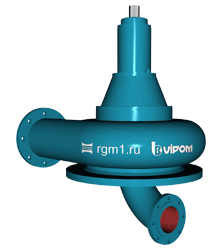 The centrifugal vertical pump type KP/200-400 is designed for transportation of sewer water with the size of hard spots up to 150 mm.
Pump design allows to connect the electric motor to the pump directly with the help of positive clutches or with the help of transmission shaft which consists of several parts connected by the clutches.
n=960 min-1

Pump Type
Power of electric motor
Feed
Head
kW
l/s
m3/h
m.w.c.
KP/200-400
55
166,6
600
15