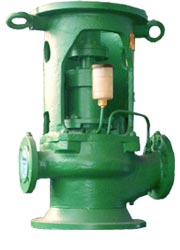 The centrifugal vertical ship pumps type K are designed to handle clear and seawater, or other fluids with viscosity, specific gravity and chemical aggressiveness similar to water. The maximum temperature of the handled fluids is 85°C
K pumps are intended for ship facilities such as circulation systems,
- cooling systems
- firefighting systems
- drying systems
- ballast systems etc.
K pumps are single-stage centrifugal vertical end suction. The shaft rests in two ball bearings mounted in the top section of the pump. The suction and the delivery flange are fitted in the casing on-line and opposite each other.
The pumps are coupled to the electric motor by means of a flexible claw coupling.
The direction of rotation of the impeller is clockwise looking from the driving side.
The pumping units are fixed to the foundations by means of a stand.
The electric motors are vertical flanged and are mounted on top of the pump on a special stand.
The indication of the pumps includes the following symbols:
K/65-160
K
-
ship
65
-
diameter of discharge opening
160
-
approximate impeller diameter
Pumps with the letter "A" in their designation (K-A/65-160) have a trimmed impeller
The material of the basic parts of the pump according to the different versions
Detail
Construction materials
Standard
01
Stand, Bearing housing, Upper body, Cap
Cast iron
Cast iron
Casing, Packing ring, Impeller, Stuffing box
Bronze
Cast iron
Shaft
Steel Cr13%
Carbon steel
Mechanical seal
Stainless steel
Viton

Stainless steel
Viton
Indication of materials