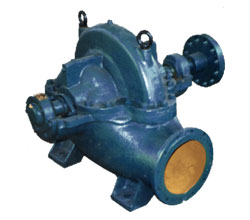 Chemical horizontal single-stage double-entry pumps type D are designed for transferring chemically active liquids.
Suction and discharge pipes of the pump are located in the lower part of the pump body to provide dismantling of the pump without disconnection of piping and taking down motor. The type of seal (stuffing box seal or mechanical seal) is selected depending on the type of transferred liquid.
Pumps are complete with three-phase electric motors, 380V or 6000V, of different degrees of protection.
Depending on customer's requirements pumps can be complete with other types of electric motors.
The indication of the pumps includes the following symbols:
200D90A-D3T-MS
| | | |
| --- | --- | --- |
| 200 | - | approximate nominal flow - l/s |
| D | - | centrifugal, single-stage, double suction, horizontal pump |
| 90 | - | total head at nominal flow - m.w.cl. |
| A | - | variant with reduced impeller diameter |
| D3T | - | main components of steel grade OX23H28M3D3T |
| MS | - | variant with mechanical seal |