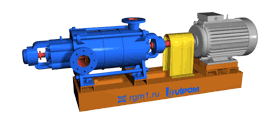 The "MS" type pumps are centrifugal, horizontal, multi-stage, sectional with one-side in-flow of the liquid into the impeller. They are having additionally integrated self-priming stage, which operates on the water ring action principle. The self-priming stage is intended to guarantee sufficient productivity for a quick and reliable starting of the pump.
The pumps of the "MS" series are designed for transportation of pure water and other liquids free of mechanical impurities, their viscosity and chemical activity similar to those of water with temperature up to 80°C.
This type of pumps are widely used for water supply, irrigation, technological and other purposes in industry and agriculture, with their abilities of self-priming and self-starting they are very suitable for automated operation.
The pressure flange of the pump type "MS" is directed vertically upwards, while the suction flange is positioned horizontally at 90° in respect to the pressure flange. The separate sections of the pumps are fastened to each other by connecting bolts. The sealing between the separate sections is effected by rubber packing with circular section. The shaft of the pumps type "MS" is supported on rolling bearings. The shaft is sealed by a tallow cotton rope (sealing gland). In the place where the gland is, the shaft is protected against wearing out by a protective sleeve. The pumps are driven by electric motors through flexible claw couplings. The direction of rotation is counter clock-wise looking from the suction side.
The pumps of this type are driven by three phase electric motors with a voltage of 380V and frequency 50 Hz. If contracted with the buyer they can be delivered with electrical motors for 60 Hz frequency and in a tropical version as well.
The indication of the pumps includes the following symbols:
7MS32.6
| | | |
| --- | --- | --- |
| 7 | - | round nominal dischargein l/s |
| MS | - | multistage self-priming with rolling bearings |
| 32 | - | round nominal head in meter for one stage |
| 6 | - | number of stages |
The main parts of the pumps are made of the following materials
Detail
Construction materials
Standard
impeller, suction body, pressure body, intermediate body, bearing body and coupling
grey cast iron
shaft, connecting bolts and assembly
steel
vacuum impeller
bronze
Indication of materials