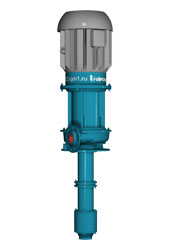 The vertical twin pumps type "VS" are designed for transportation of pure and slightly contaminated waters - dam, river, underground and other waters with temperature up to 40°C and maximum particles size up to 0,5 mm at concentration of 1000mg/l.
The pumps of the type "VS" consist of a centrifugal and diagonal impeller attached to a joint shaft system. Bearing is effected by radial-axial and radial-sliding bearings.
The pumps have an elastic coupling to the electric motor, which is connected with the pump by an intermediate flanged body.
The indication of the pumps includes the following symbols:
130VS70
130
-
rated discharge in l/s
V
-
vertical
S
-
twin
70
-
rated head in meters
The basic parts of the pumps are made of the following materials:
Detail
Construction materials
Standard
Diagonal impeller, guiding body, intermediate body, suction body, centrifugal impeller
grey cast iron
Shaft, pipe and connecting bolts
steel
Indication of materials