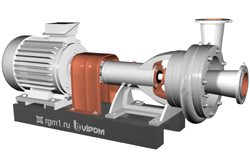 The horizontal single-stage centrifugal pumps with one-side inlet impeller type "EG" are designed for transportation of hot water at a temperature not higher than 150°C.
These pumps are applied for industrial and agricultural purposes, e.g. for water circulation in green houses, in the technological process of different industries etc.
The pumps type "EG" are not suitable for heating of living premises.
The pumps are intended to work in systems with a working pressure of up to 6 atm.
The pumps type "EG" are executed with a supporting base, in which the shaft lies in two identical ball bearings. The impeller is attached to the shaft by a bracket. Between the discharge body and the supporting base an intermediate body is mounted, it forms a cell for cooling water supply. The cooling water improves the operating conditions of the packing and prevents the spreading of high temperature to the supporting base and the ball bearing.
The suction flange is along the axis, with possibility to be fixed at every 90°, depending on the assembly and operational conditions. The basic version has a discharge flange directed vertically upwards.
The impeller has one-sided inflow of closed type. The packing between high and low pressure is achieved by packing rings. The impeller is attached and secured by blind-nut and washer. The rotation is transferred from the shaft to the impeller by a spline connection.
The assembly of the body parts is made along a plane perpendicular to the shaft axis.
The tightness between them is achieved by flat premolded rubber gasket by clamping with the connecting elements.
The shaft is packed by lead sealing placed in the sealing box. At the place of the sealing the shaft is protected from wearing out by a protective sleeve. The pump rotor resets in two bearings, placed in the supporting base.
The pumps type "EG" are assembled with the motor on a common frame. The drive is transferred by elastic pin couplings. The direction of rotation of the rotor is counter-clockwise when looking from the suction side.
The pumps are driven by three-phase electric motors for 380 V at 50 Hz frequency. If contracted with the buyer, they can be executed for other voltages and frequencies and in a tropical version, as well.
The indication of the pumps includes the following symbols:
50EG32
50
-
rated discharge of the pump in l/s
E
-
centrifugal single-stage pump
G
-
hot water version
32
-
total head at nominal discharge in m
A
-
pump with reduced impeller diameter (first reduction)
B
-
pump with reduced impeller diameter (second reduction)
The material of the basic parts of the pump according to the different versions.
Detail
Construction materials
Standard
impeller
brass
suction body, discharge body, bearing body, connecting lantern, coupling
grey cast iron
shaft and connecting elements
steel
Indication of materials